Keith Eppinger
UFC 261: Main Card Picks and Predictions.
UFC 261 is tonight. We've got three title fights: Schevchenko vs Andrade, Zhang vs Namajunas, and Usman vs Masvidal. Get your picks for the full main card here.
UFC 261 is tonight in Jacksonville, Florida. For the first time in what feels like forever we have a packed stadium full of cheering fans. We've got three title fights and an overall exciting main event. Seems like an opportunity to stack some bread. If you don't trust me enough, check out my video with Tom in which we debate these picks. FYI, I got these lines from ESPN at the time I wrote this, but they can move as we get closer to the start of the event.
Jimmy Crute -220 vs Anthony Smith +180
Crute is the superior grappler in this matchup. Smith was outgrappled by Alexander Racik, who isn't nearly as good at it as Crute. Crute is going to bring Smith to the ground a lot. When Anthony Smith goes to the ground, he gets into a weird fetal position. He's getting old for the UFC. Crute has a good submission game, but even if he doesn't win by sub he'll do it on the cards via grappling control time. I'm taking Jimmy Crute to win.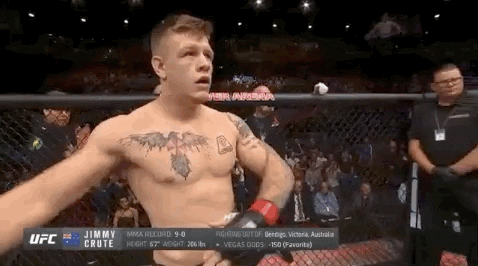 Uriah Hall +115 vs Chris Weidman -135
Weidman is an excellent grappler, Hall has incredible knockout power. This is going to be a good matchup stylistically. These two met in the regional scene years ago and Weidman got the win, completely dominating Hall on the ground. I think Weidman has a good chance to win the first round or two, but as we saw in his knockout win against Anderson Silva, Hall has the ability to turn it on in the later rounds and sleep his opponents. Weidman doesn't have the strongest chin out there, and Uriah Hall should be able to expose that. I'm going with Uriah Hall to win by KO, which currently sits at about +195 on most books.
Valentina Schevchenko -500 vs Jessica Andrade +380
Valentina Schevchenko is without a doubt one of the greatest fighters we've seen grace the UFC. She's powerful and precise when it comes to striking, and very strong when it comes to grappling. Andrade is moving up a weight class to fight Valentina and hopes the gain will help her be just as strong. My opinion is that it will negatively affect her cardio in the later rounds and allow Valentina to sneak in for a nice KO. That also sits at about +195 at the time I'm writing this. Valentina Schevchenko at -500 also makes for a nice parlay booster with whatever else you decide to take this weekend.
Weili Zhang -200 vs Rose Namajunas +170
Thug Rose is driven to win this fight. She used to hold the belt Zhang has now, and she wants it back. She also believes this is a fight against communist regimes, which she has personal experience with. I don't know where Weili Zhang stands on all that, but I think it's enough motivation to bring out the thug in Rose Namajunas tonight. This is an evenly matched fight as both women are serious striking machines. I'm mostly picking with my gut here. I'm taking her at +170 straight, but I'm also going to be taking a risky play on this fight. Rose has had some sick submission finishes earlier in her career, including flying arm bars and rear naked chokes, so in hopes she completes one, I'll be taking her to win by submission. Namajunas by submission currently sits around +750/800 on most books right now. Mike Tyson also says Rose will "steamroll" Weili Zhang, and he knows a thing or two about the fight game.
Thug Rose.
Kamaru Usman -400 vs Jorge Masvidal +310
Kamaru looks nearly unstoppable after his last win against Gilbert Burns. Masvidal has lost his last two fights. His last loss actually came to Usman, last July when he took the fight on 6 days notice. Despite the fact that he's had a full camp to prepare for this fight, Usman is still going to win. Since moving to Trevor Whitman's gym, Usman's striking has improved greatly, and his wrestling continues to be top notch. I can totally see him dominating this fight from the second round on, after Jorge wins the first again by cracking Kamaru a few times early. I don't think this fight goes to decision, due to Jorge's standing knockout power and Kamaru's ability to ground and pound. I'm putting my stake on Kamaru to win via KO, currently sitting at +275. I think he wins regardless of the method though, so at -400 I'll be putting him in my parlay too.
Smiling Usman.
My Parlay
Jimmy Crute -220
Valentina Schevchenko -500
Kamaru Usman -400
This adds up for a total payout of +118.
Tail me or fade me, the choice is yours. Whatever you do, do it responsibly.
For further analysis, check this out.