Sammy Mattaliano
UFC 262: Michael Chandler vs Charles Oliveira
This Saturday the UFC has a fantastic PPV card filled with action matchups. Anytime there's a title fight in the lightweight division it's a must-see. It's the most competitive division in the promotion and arguably in the entire sport. This should be another dramatic night for the Houston fans filled with energetic fights in the lightweight, featherweight, middleweight, and flyweight divisions that are made to make the Toyota center bring the roof down.
The Main Event
We're in for a real treat with Michael Chandler versus Charles Oliveira for the 155lb title. Lightweight is the toughest division in the promotion hands down. Fighters have to put up five, six, seven-fight win streaks of killers just to have a chance at a belt. Oliveira had to do it this way, while Chandler has had more luck with his stars aligning but still deserving. When this fight was first announced, fans were confused with the matchup and why Dustin Poirier wasn't in one of the slots after his KO over Conor McGregor. I think the UFC's train of thought is with the retirement of Khabib, they wanted a fresh matchup between two guys who haven't fought Khabib. If they slid Poirier, McGregor, or Justin Gaethje in, the title wouldn't be taken as seriously. The three fighters I mentioned have all been finished by Khabib recently. Dustin took the money with the Conor trilogy so here we are. Regardless these two in the main event are deserved and have a great fight for us.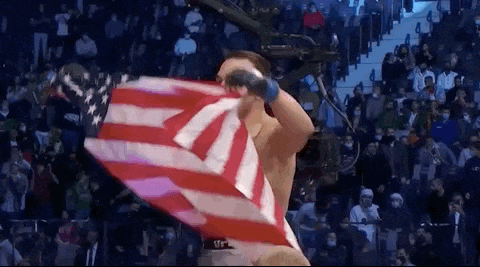 Charles Oliveira
The longer I watch MMA the more I realize to have a better chance at success in the UFC is to build up as many fights and experience outside before joining. There has been a small pool of fighters who've defied that idea and Charles is one of them. Charles signed with the UFC at only 20 years old and like most young fighters in the promotion, was immediately thrown to the wolves. Starting in the UFC with just a slick Ju-Jitsu game over the past 11 years he's been in the cage with killers like Jim Miller, Donald Cerrone, Cub Swanson, Frankie Edgar, Max Holloway, and Anthony Pettis. Having such a strong strength of schedule has made Charles evolve his striking into something that compliments his ground game very well and is just as deadly itself, proven in this latest eight-fight-win-streak. Anytime Charles gets a hold of you it's a risky game you're playing. He's incredibly offensive off of his back with a variety of submission attempts and sweeps. He has the most submissions in the promotion with sixteen and with eight different types of subs; including rare ones like calf slicers and Peruvian neckties. He's added great boxing to his striking, along with his wild upward elbows, flying knees, and jumping kicks that he has no fear of throwing because he doesn't mind getting taken down. He showed great wrestling against former interim champ Tony Ferguson in his last fight to earn this title fight. I think Charles's biggest improvement has come in his mental strength though. When he was fighting at 145lbs there were multiple occasions where he had one foot out the door and give up on himself in fights. Add this in with missing weight five times one of those times being 10 pounds over, people questioned Charles's dedication to the sport and himself. Since going on an eight-fight win streak with seven finishes it looks like he's ironed some of these mental wrinkles out which is incredibly inspiring. When the going gets tough he doesn't panic anymore and has shown much more focus since moving to 155lbs. Charles took a path in the UFC that not a lot of young fighters don't survive. Taking his lumps in his early twenties going 9-7 in the 145lb division before going back to the drawing board. Moving up to 155lbs to go 9-1 is a true testament to growth and maturity as a fighter. Twenty-seven fights in the promotion and finally earning a well-deserved title shot.
Michael Chandler
As I talked about in the last paragraph, I've become a big fan of fighters building their name outside of the promotion to maximize career efficiency, earning potential, and prove that some of the best fighters in the world aren't always in the UFC. Mike Chandler is a prime example of this. A man who made his name in other major American promotion Bellator. For years he has been quietly putting together a solid resume. Hardcore fans have always questioned, what would Mike look like if he made it to the UFC? Especially after making his debut in 2009 as a raw division 1 wrestler out of the University of Missouri but evolving into a dangerous power puncher with a solid submission game. Mike showed huge potential early submitting one of the best BJJ players out of Poland Marcin Held in only his 6th professional fight. Earning a Bellator lightweight title fight against division veteran and former UFC champ Eddie Alvarez in just his 8th fight. Submitting Eddie with a rear-naked choke in the 4th round after one of the greatest back and forth fights you'll ever see. After that, he submitted Olympian Rick Hawn. Mike then faced Eddie Alvarez in a rematch which they picked up right where they left off with another 5-round barnyard brawl which Mike lost a very close split decision that I felt he won. Mike ran into adversity which he ended up losing his next two fights to former UFC fighter and Bellator champ Will Brooks. This caused a huge change in Chandler's mentality. Taking on the mantra, "Extreme Ownership", he talks about a lot today. After losing three in a row and moving his training to south Florida under Henri Hooft, Mike stuck his nose to the grindstone and awoke a new person inside of him. Going a great run where he scored a viral KO over Patricky Feire where the connect sounded like a baseball being cracked out of the park and domination over the underrated former UFC champ Benson Henderson Going 10-2 with seven finishes since losing those three fights in a row in 2014. Avenging one of his losses to former Bellator champ Brent Primus, a rematch with Benson which he knocked him out in the first round, and his explosive UFC debut against top 5 contender Dan Hooker. A lot of fans felt Mike wasn't deserving of this title shot, but you can't be mad at the man for being at the right place at the right time. With Mike gunning down Hooker in the first round, who went five tough rounds with Dustin Poirier, and his accomplishments outside it's not that crazy considering the UFC is probably paying Mike very well. So they want to see if he's worth the money. At age 34 Mike has said in numerous interviews "I'm here for a good time, not a long time."
Variables of the fight
This is a very intriguing matchup with lots of questions. How are these two going to match up on the feet? I think Mike has the speed advantage and could very well put Charles away early as he deals with long lengthy frames like Charles and Dan Hooker very well, but Mike is not invincible. Charles must work the body with his front kicks to take some steam away from Mike's punches. It will force Mike to shoot and leave him open for that vice grip of guillotine the Charles has pulled off so many times. What is it going to look like when these boys grapple? Is Charles's bottom game going to cause Mike problems? Or is the American wrestling going to be able to control and smother Charles's attacks? I think if these guys get it to the ground Mike must weather the submission storm and try to let Charles work himself out. Mike is going to be very confident in his submission defense since one of his main training partners is BJJ ace and top 3 welterweight contender, Gilbert Burns. I think whoever is in better shape is going to take the win because both guys are going to be dishing out and taking tons of punishment. I think we're in for a lightweight fight for the ages. With the winner going to have a blockbuster title defense against the winner of Poirier/McGregor 3 in July.
Co-Main Event
It doesn't get much better than the featuring act we have this Saturday. Tony Ferguson vs Beneil Dariush is one of the best matchups on paper we got in 2021. A lightweight bout between two of the biggest psychopaths in the division. Beneil riding the biggest wave of momentum in his career, Tony looking to bounce back with his back against the wall.
Tony being one of the most unique characters in the sport, fans call him weird and cringe, but Tony is authentically himself in and outside of the cage. Whether it be his strange training techniques, him training Wing Chun and trying to make practical use of it in fights, or him somersaulting away from his opponents when getting dropped, Tony is a beautifully strange mind. He mixes in with all these unorthodox techniques with solid fundamentals though, great boxing with a stinging jab and straight cross. Some of the meanest front kicks to the body you'll see, punishing elbows from awkward angles, and he has some of the best cardio in the entire promotion. The former interim champion was considered one of the best lightweights on the planets putting together a twelve-fight win streak in the division having the Khabib fight slip out of his fingers a staggering five times, kind of ironic he's the co-main to a lightweight title fight this Saturday. At thirty-seven years on a two-fight losing skid, this is a crossroads fight for Tony. Only losing to Justin Gaethje and Charles Oliveira there's still slight hope for Tony to make one final push for the accomplishment that'd put a bow on his career in the UFC.
Unfortunately for Tony, he's running into another savage just like him. Beneil Dariush is one of the biggest sweethearts in the UFC but when that cage door closes, he turns into an absolute demon. Turning around the three-fight skid of two knockout losses and a tough draw. Beneil has put together a violent six-fight win streak with four finishes including his comeback KO over Drakkar Klose, his spinning back fist KO over Scott Holtzman, and his dogfight with Carlos Deigo Ferreira which was one of the best fights of the year so far. When Beneil came to the UFC he was mostly a BJJ player with good kickboxing. He's transformed into a well-rounded pressure fighter with an endless motor on him. Similar to Tony with an ability to just bite down on his mouthpiece and gut it through the darkness that his opponents can't keep up with. Riding the best streak of his career a win over Tony would make him a great candidate for a shot at that belt even with all the big names in the top five.
People are leaning towards Beneil due to his youth and grappling, but man-who knows with this fight. One thing Beneil has said in interviews in the prefight is that he has to outdo Tony everywhere, most importantly out crazy Tony, match risk for risk. Tony's mind isn't going to give up on him but maybe his body will give up on him first. The smarter move might just be to take the blueprint from the Charles Oliveira fight and try to control in the grappling exchanges. For Tony, I think his clearest path to victory is his striking. Bring back some of those mean front kicks to the body that has been missing his last two fights. Just use what got you to the dance, drowning pressure with a variety of punches and elbows. Beneil isn't invincible, he gets hit often and has been stopped before. I think a huge factor of this fight people aren't realizing is how the crowd is going to play into this fight. Tony's performances have been flat in 2020, but this is his first fight in front of a crowd since June 2019. It could benefit both fighters, but I think Tony more, it's going to bring chaotic energy which Tony thrives in. Man, this is going to be a joy to see play out.
Can't miss fights
Just when you think this card can't get any better there's one more matchup that I'm drooling over, and I feel is buried due to the main and co-main being so strong. Shane Burgos versus Edson Barboza at 145lbs has fireworks written all over it. It's fighters like Edson that make the UFC special, a brutal Muay Thai specialist that has knockout power in all his limbs. One of the only fighters in the promotion to have a KO with a flying knee, punches, body kicks, head kicks, and leg kicks. Also, the owner of the cleanest wheel kick knockouts in the sport. Barboza is a long-time staple of the 155lb division looking to continue success at his new weight class. Burgos is a great dance partner as well. A slick striker with great movement and slips with his biggest strength being his boxing has put together tons of excitement in his eight fights with the UFC. Coming off a 2020 fight of the year contender with Josh Emmett. Shane's come forward pressure boxing style pairs up great with Edson's stick and move power kicking game. A great appetizer to get the fans ready for the main and co-main event.
Fights with potential
Even with the three fantastic fights I've mentioned, there are a few more that have caught my eye that could make this a great night. First up is the main card opener in a flyweight grappler vs grappler matchup between Rogerio Bontorin and Matt Schnell, it could be a fight-filled with back and forth scrambles or a fast-paced striking match. Next on the featured prelim is a middleweight fight between BJJ and division legend Jacare Souza and Andre Muniz. Jacare being older now looking to put up some fun performances against a contender you could argue is a younger version of himself. It'll be fun to see what Jacare has left in the tank or if he will be used as a stepping stone for the youth of the division. Then we have a fun featherweight fight between credentialed freestyle wrestler Mike Grundy and flashy striker Lando Vannata. Then to open up the prelims is a fun female flyweight fight between the scrappy Andrea Lee and Antonina Schevchenko. All in all, I think we're in for another magical card Saturday, don't miss it!