Sammy Mattaliano
UFC 263: One of the best cards we'll ever see
There's never been a better time to be a fan of MMA with the UFC kicking off their summer blockbuster run of mega PPVs and high-demand fight nights. Saturday is UFC 263 and it's a real doozy. A spoil of riches with the main event of a 185lb title fight between two former foes quickly becoming a nasty rivalry. A co-main event is a rematch for a 125lb title that was one of the best fights of 2020. The first 5-round nonmain event between one of the biggest fan favorites of the sport and a 170lb dark horse that's been climbing the mountain to get long-overdue respect. An undercard and prelims stocked up with touted prospects going for each other's necks. The potential number one contender fights. Ranked contenders looking for breakout performances. From the prelims to the main event this card is must-see TV and I'm here to tell you why we're in for a good time.
The Main Event
We got a good one this weekend, Israel Adesanya vs Marvin Vettori for all the glory and bragging rights at 185lbs. This will be the second time these gentlemen will be meeting each other in the cage. The first meeting was when they were both young in the UFC and was a competitive showing for Vettori with his pressure and wrestling, but Israel's artistic striking was too much resulting in him edging out the decision 2 rounds to 1, Vettori has been vocal to abrasive levels that he was wronged by the judges. The two have been bickering for the past three years but in the past six months, this rivalry has increased intensity and coming to a boiling point. The bad blood, the growth in both fighters, and the style matchup has given us something very compelling to pay attention to.
Marvin Vettori
"The Italian Dream" has been on a run since the first time he and Israel met in 2018 going 5-0. Whether it's been him stepping up to be a last-minute replacement or him having 2-3 opponent changes to keep his fights together, Marvin takes on all comers. He isn't the most flashy or dynamic style of a fighter but has a very effective skill set. Most of his success in MMA has come from his wrestling and top control. He has great strength for the division to make his grappling even more effective, I don't think there's been a single time he hasn't had the advantage in the strength and grappling fighting in the UFC. Says a lot when he's fought big middleweights like Karl Roberson, a massive precision power striker that Marvin out-muscled and scrambled to choke him out in the first round. Cezar Ferreira a big Brazilian whose nickname is the Mutant and been bulldozing dudes in the PFL struggled with the pressure boxing and takedowns of Marvin to lose a dominant decision to him. Kevin Holland who was considered for fighter of the year in 2020, was thrown around like a ragdoll for 25 minutes, where Marvin scored his personal best getting 11 out 17 takedowns which I believe is the most anyone has scored at 185lbs in UFC history. In my opinion, Marvin's best performance was one he stepped up on short notice to take on Jack Hermansson. Jack being another big middleweight workhorse with elite grappling. Marvin outworked him for 5 rounds with improved boxing and showed great scrambles to get off his back under the wet blanket that is Hermansson. While Marvin's game plan hasn't changed since the first Adesanya fight, everything I mentioned points to the growth in the strengths of his style. His game mentality, endless cardio, and the chip on his shoulder could cause this series to go into a trilogy.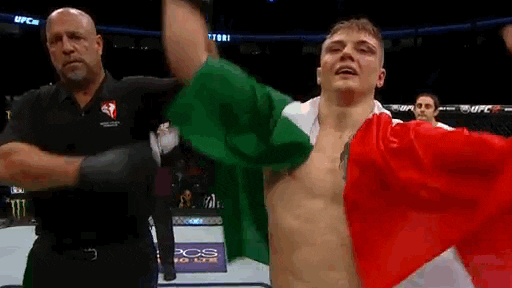 Israel Adesanya
This fight will be a huge statement for Israel's championship legacy. Coming off his first loss after trying to become a two-weight division champion at 205lbs against Jan Blachowicz, the Vettori fight will ask the questions of how does Israel bounce back? What adjustments will be made? Was there any growth since then? Bouncing back at the championship level is one of the best ways to measure the greatness of the fighter. Israel is one of the most intelligent fighters there is today. He comes from a great camp in City Kickboxing who doesn't baby him, will force him to address the negatives in his last performance, make the necessary changes, and put together a game plan that's ahead of the curve. When Adesanya is in the zone he's arguably the most amazing fighter to watch in the UFC, one of the best strikers to ever compete in MMA. Going 75-5 in kickboxing has given him an intricate striking style. The footwork, variety of strikes, head movement, counters, shot selection, set-ups, feints, and misdirections have been leaps and bounds over everyone at 185lbs. Any aspect of striking Israel has put years into it to make him a 20,000-piece puzzle to compete against. Add his clinch work to his precision knees and bladed elbows with growing knowledge in the defensive grappling it's a long night for anyone who's in there with him. His performance against Brad Tavares always stood out to me, highlights everything I mentioned, and is one of my favorite 5-round dominations in all of MMA. A beautiful display of slicing elbows off-hand fighting, spinning elbows off caught kicks, footwork corralling Brad into kicks and punches, and just patient aggression to never let Brad rest while maintaining an easy pace for Israel. It was only Israel's third fight in the UFC, but the championship future was written on the wall then. He went on to prove it with his surgical stoppage of #5 contender Derek Brunson. His passing of the torch victory over all-time great Anderson Silva. The interim title victory against Kelvin Gastelum where Israel put his heart and nuts on full display in a legendary fight. His unification over the former champion and current #1 contender Robert Whitaker where Israel finished him with his precision counter-punching in under a round and a half. His last fight at 185lbs against Paulo Costa was peak Israel was a matador getting the better of the Brazilian bull that resulted in a second-round molly whopping. With a second victory over the improved Vettori, Israel will be making forward progress in trying to pass Anderson Silva to become the greatest 185er of our generation.
Variables of the fight
The timing of this fight adds to the competition level, Marvin riding momentum and confidence. Israel coming off his first loss and could be the first time he questions himself. Israel's last fight against Jan could be the blueprint for Marvin. One of the biggest talking points in the community is how Israel struggled with the takedowns in the middle of the cage. Is this something Marvin could steal from Jan? Absolutely, but it'd be foolish to think Adesanya isn't aware of this and working on this aspect of his grappling defense. I do think Marvin will get Adesanya on the ground, but he must make the most of it. Marvin has the Jujitsu to get the submission, so Israel must quickly get back to his feet without rushing. Although Marvin's aggression on the feet could play right into the hand of Israel. In Marvin's fight with Kevin Holland although he controlled most of it there were moments where Kevin had success with kickboxing combinations that flustered Marvin. If Kevin can do that Israel can do it better. I wonder if Marvin is taking anything away from his teammate Kelvin Gastelum who gave Israel one of his toughest fights. I think we're in for a very contested fight with lots of top control time for Marvin, but Israel making the most of his moments on the feet doing most of the damage. If Israel can put the money in the bank with the bodywork and Marvin's high rate of grappling, he can get the late TKO or win another contested decision three rounds too two. If this goes to a decision somebody is going to be unhappy with judges, it's going to be a dramatic night!
Co-Main Event
Deiveson Figueiredo vs Brandon Moreno for the 125lb title is what I'm most excited for Saturday night. The flyweight division has been slept on by fans and even the company to a degree but over the past two years, it's becoming one of the entertaining divisions in the UFC. It's fighters like these two that have made the MMA community put some respect on 125lbs. This is a rematch for one of the best fights of 2020. Both boys fought at UFC 255 and got dominant victories. Who would've thought three weeks later at UFC 256 they put on the best title fight 125lbs has ever seen? One being a brutally dominant champion the other being an underdog his whole UFC career and finding late success. Figgy and Moreno are two authentic and eccentric characters that add to the mythical roster of fighters that make the UFC so special.
Brandon Moreno
Its fighters like Brandon are why I love the sport, outside of the cage a low-key family man who loves to show off his Lego and action figure collections. Coming off like someone who'd be the prey for bullies but is an unassuming killer who's taken the long way to get to the spot, he's in today. Someone who's had stumbles in his career but came back better every time. Making his debut in MMA at seventeen years old in 2011 starting off 3-3 to improve his current record of 18-5-2. This was a man who was the last pick on The Ultimate Fighter, a +385 underdog in his UFC debut which he scored a rear-naked choke over Louis Smolka. Someone who earned a main event in his home country at twenty-three years old in a close decision loss to current Bellator 135lb champ Sergio Pettis; who was released from the UFC after losing two in a row. Just to stop the Cuban Olympian Maikal Perez in the 4th round for the LFA 125lb title to get right back into the UFC. It was right back to the wolf's den with Askar Askarov being his first fight back who's is the current #2 contender at 125lbs. In a fight where Asksar stuck to Brandon like glue but he defended and scrambled tremendously and pieced Askar up on the feet, it ended in a split draw but a great showing. His fight with Kai Kara France is what stands out to me though. In a fight where both traded long combinations, Brandon's straight punches were pistons and would taunt Kai every time he landed. Brandon would land a 3-4 punch combo then evade a 5-6 punch combination from Kai. A beautiful display of flyweight action I highly recommend you go watch. Lastly the fight with Figueredo where he showed that Mexican spirit surviving the early pressure of power shots and kicks, taking two low blows, to get a second wind and fight back with his own boxing and takedowns to edge out a draw. With more time to prepare and having the championship experience, Moreno is a live dog in this fight.
Deiveson Figueiredo
My man Figgy is one of the last Mohicans in this age of MMA. Not an athlete who's good at fighting, a fighter's fighter who you can tell is a fan and a student of the game. An authentic character who's not afraid to follow his passion. Whether it be hairdressing, a chef in a sushi restaurant, a bull rider, or raising his animals at his farm. He's one of the most interesting fighters in the sport right now. A lifelong martial artist with backgrounds in capoeira and wrestling but finding his specialty in Muay Thai A come forward power striker with underrated grappling, that has a killer instinct that 125lbs has never seen, proven by finishing 7 of his 9 of his UFC wins. His fight with the underrated Alexandre Pantoja (holds 2 wins over Moreno) was a showcase of Figgy's complete skillset and brutal nature. Scoring multiple well-timed double leg takedowns while stuffing most of Alexandre's. His signature hands-down style and terminator pressure slinging power shots, even landing going backward as well, and slicing him up with elbows from a variety of angles. Just a very intelligent performance while still being his violent self. His second fight with division legend Joe Benavidez was one of the most brutal dominant title performances in the history of the UFC. Scoring 2 knockdowns and landing almost 90% of his total strikes before strangling Joe unconscious in the first round, felt like I had to take a shower after watching that fight. The first fight with Brandon Moreno was very close but it was vintage Figgy with hands down power combinations, beautiful head, and upper body movement, and mixing in his judo throws to reverse the takedown attempts of Moreno. It was a close fight, but I felt Figgy did enough to win but repeated low blows cost him a point in the third round resulting in the fight to be called a draw. In a recent interview, he talked about longevity as a champion, how he takes inspiration from 170lb champion Kamara Usman's patience. Wanting to adopt this to his own game with a higher guard, and not being so obvious to his opponent when he sees blood. Like I mentioned before Figgy's a true student of the game and is making the changes to be flyweight king for the foreseeable future.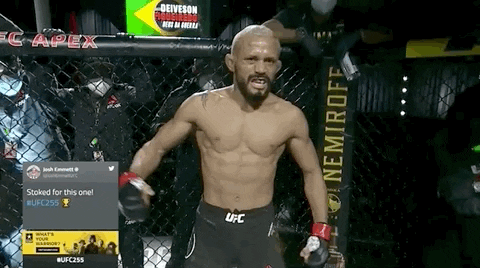 Variables of the fight
It's going to be hard to top the first fight, but I think this will snag the fight of the night bonus again. Both guys have twenty-five minutes of experience with each other so it'd be foolish to think the same exact fight will play out again. Moreno had lots of success with the jab in the first fight so it'll be huge for his offense this time, whether it's used to mix up his punches behind to discourage the head movement of Figgy, or use it to set up the wrestling. I think the grappling will be used much more this time as well, Figgy's a big powerful flyweight who cuts a lot of weight so a wrestling-heavy game plan could help neutralize the power and volume. For Figgy I feel he needs to use more bodywork this time, Moreno has a great chin so body shots are a great way to do damage and will set up the headshots. I think having a high guard this time will help defend the straight punches from Moreno. It'll be interesting to see a less compromised Figgy this time, the last fight he was in the hospital with food poisoning the last 2 days before the fight. I think the power will be too much and Figgy will get the late finish or decision. Regardless this one going to be a show-stealer.
Can't miss fights
The featured bout on the main card is a five-round 170lb title eliminator between Leon Edwards and the OG Nate Diaz. Dana White has said multiple times the Colby Covington is next in line for Usman, but Dana says a lot of things. With a statement finish from either guy, they could jump the line. Leon the well-rounded precision sniper riding an eight-fight win streak. The superstar Nate Diaz looking to take one last shot at welterweight legitimacy. It's going to look like when Rory Macdonald dominated Nate or Nate's going to do what he does best which is volume boxing combinations, work his high-level jujitsu, and flipping birds. We don't know how much longer Nate is going to be around so enjoy this gem of a fighter while you can!
Paul Craig against Jamahal Hill at 205lbs is a deadly striker vs grappler matchup. Craig a young rising contender with phenomenal jujitsu riding a three-fight finish streak including avenging his draw against former champion Mauricio Rua. Jamahal Hill being one of the most fun prospects at light heavyweight. Long lengthy power striker 3-0 in the UFC coming off his biggest win over division veteran and former title challenger Ovince St. Preux. Either Paul is going to get this to the ground and submit him or Jamahal is going to put his lights out. It'll be a great main card opener.
Headling the ESPN prelims is a 155lb fight between Drew Dober and Brad Riddell. A fight that's flying under the radar that's expected to be high-level striking fireworks. Riddell with a background in kickboxing fighting at the highest level just like his teammate Israel Adesanya, who's 3-0 in the UFC. Dober a lightweight veteran who's been in the promotion since 2013, who's won 6 of his last 8 only losing to Islam Makhachev and Beniel Dariush. The man has frag grenades in his hands and it'll be interesting to see how they stack with the sophisticated striking of Riddell to see who's going to crack the lightweight rankings.
Eryk Anders vs Darren Stewart at 205lbs is something you'd see in an underground fight club. This rematch following Stewart being hit with an illegal knee that resulted in a no contest, before the foul it was a beautiful sloppy mess of rock 'em sock 'em robots, like a fight you'd see at the 7/11 parking lot after a night of bar hopping. Both big power punches are going to pick up right where they left off with somebody starring at the lights or face buried in the canvas. It's going to be a car crash you won't be able to take your eyes off.
Fights with potential
Demian Maia vs Belal Muhammad at 170lbs is another great striker vs grappler matchup. Maia a two-time title challenger and owner of some of the best Brazilian jujitsu in the sport that has wins over Jorge Masvidal, Carlos Condit, Ben Askren, Neil Magny, Jon Fitch, and Chael Sonnen. He has done all of this with his smothering grappling. He's said in multiple interviews this could be his last fight at 43 years old. Belal coming off an unfortunate no contest against Leon Edwards, looking to retire the UFC legend with his stick and move style to get right back on track in the welterweight division. Will the human backpack leave the sport on top? Or will Belal piece him to send him out crawling on his hands and knees?
Lauren Murphy vs Joanne Calderwood at 125lbs is a title eliminator for who's next to face the Boogey Woman, Valentina Shevchenko. Murphy riding the longest active win streak at flyweight behind the champ with 4 wins a row. A gritty grappler who looks to drown his opponents with her cardio taking on the Muay Thai specialist Calderwood. Jojo coming off victories over top 10 contenders Jessica Eye and Andrea Lee looking to get another big win to try and get shot to become the first Scottish UFC champion.
Hakeem Dawodu vs Movsar Evloev at 145lbs is two hype trains being rammed right into each other to see who's the next guy to be excited for in the featherweight shark tank. Dawodu a methodical kickboxer who's riding a five-fight win streak. Evloev the well-rounded Russian who can do it all but has an affinity for striking is also riding a five-fight win streak. We'll be in store for a competitive fight filled the defensive grappling and trading combinations.