Sammy Mattaliano
UFC Fight Night: Font vs Garbrandt
After another electric pay-per-view, the UFC is looking to finish up its seven-week run with a fun little card to leave the fans wanting more. The first card after a big pay-per-view will always struggle with name value but that doesn't mean it won't be a fun night for viewers. We got a very solid main and co-main event both with title shot implications, along with a couple of other matchups that caught my eye.
The Main Event
I always go back and forth with myself about which division is the most stacked in the UFC. I find myself going between lightweight, featherweight, and bantamweight; but when I really think about it, lightweight and bantamweight are neck and neck with each other. Bantamweight is very special though; I think it beats lightweight in-depth and has a higher skill level on average than 155lbs-which is saying a lot. If you look at that the top 15 at 135lbs it currently has five former UFC champions along with division great, TJ Dillashaw, looking to return in there as well. The main event this weekend is a great showcase for the 135lb division. #3 Rob Font who's been silently mowing down ranked contender after contender finally getting his due at bantamweight with the former champion #4 Cody Garbrandt looking to continue his redemption back to a title. This fight is a great analogy for how strong the division is thriving right now. A veteran dark horse and former champ with still tons of promise clawing at another chance for a belt. With how both guys match up stylistically, I think it's a lock that the winner will be in the conversation for the title.
Rob Font
With me emphasizing how deep 135lbs is in the last paragraph, I think Rob Font takes the cake for one of the most slept-on fighters in the division. Training out of the New England Cartel under coach Tyson Chartier with slick featherweight contender Calvin Kattar. In a division filled with high-level strikers, Rob still stands out. A kickboxer with his hands being his best weapons, strong jab, simple but effective boxing combinations, and fantastic precision. Along with the grappling to accentuate his striking even more. Solid takedown defense and will mix in his own wrestling sometimes to get his opponent's mind off his striking. Holding a UFC record of 8-3 with six finishes, his only losses have been to the elite division like Raphael Assuncao, Pedro Munhoz, and John Lineker. No shame in losing any of those guys and it has only made Rob better. His knockout over Thomas Almeida is my favorite of his. Wobbled him in close range with a head kick then finished him with a barrage on laser beam uppercuts in a collar tie. A stoppage that'd bring a tear to Mirko CroCop's eye. After losing to Assuncao in 2018 Rob has put together his best string of wins including gritty wrestler Ricky Simon, newly crowned Bellator bantamweight champ Sergio Pettis, and his most recent knockout over former title challenger and Muay Thai bulldozer, Marlon Moraes. His biggest win came in a fight where Rob had to show some composure as he was taken down and controlled most of the first round. However, in the last ninety seconds, he scrambled up back to his feet and scored a brutal finish. Being in the UFC since 2014, consistently fighting high-level opposition, the camp he trains with, the maturity that has gone into his skillset, and him going into his fighting prime at thirty-three years old. I think the best Rob Font we'll see will show up Saturday.
Cody Garbrandt
Cody Garbrandt is an anomaly in the UFC, joining the UFC at twenty-four years old in January of 2015 and started off sprinting. By August 2016 Cody quickly racked up five wins with four knockouts including Thomas Almeida, Takeya Mizugaki, and Augusto Mendes. To the surprise of the MMA community, Cody earned a title shot against arguably the greatest 135lber of all time Dominick Cruz in only his 11th professional fight. He was only ranked #5 in the rankings at the time and came in as a sizable underdog. Cody went in there and put on one of the best championship performances ever. It was a shocking dominant display of speed, power, head movement, and showboating. Dominick Cruz is one of the most elusive fighters in the sport, Dom was whiffing and getting pieced up for all five rounds. The way Cody took the title was one of the most impressive 'rise to the occasion' moments in the UFC. In hindsight, Cody was the perfect pick to beat Dom coming from Team Alpha Male in Sacramento under coaching from Uriah Faber, Danny Castillo, and Justin Buchholz. Dom faced and beat three different opponents from that camp and Cody finally cracked the code. From being unranked in the division, to eight months later becoming champion, it'll be a long time before we see another bantamweight do that. Cody went on to face former teammate TJ Dillashaw which a two-fight series filled to the brim with drama and bad blood that Cody, unfortunately, took two stoppage losses. Cody went down a rough path of fighting emotionally rather than tactical. He was booked for what was thought a step down in competition against Pedro Munhoz after some time off. After starting strong Cody swayed away from the game plan, let his emotions get the best of him again, and got stopped for the third time in a row. The MMA community was hard on him thinking his best days had passed him. People forgot Cody is only twenty-nine still with tons of promise. He got some new looks in training with the great Mark Henry and Ricardo Almeida in Toms River, NJ. With Cody's boxing and speed, it's a great fit for him. Cody returned against division veteran Raphael Assuncao where he put on a tactical display of speed, combinations, and patience. Cody scored a beautiful buzzer-beater walk-off KO at the end of the 2nd. Having one of the best knockouts of 2020 Cody is right back where he was after he beat Dom for the title. When Cody has his mindset, he's one of the dangerous fighters in the division.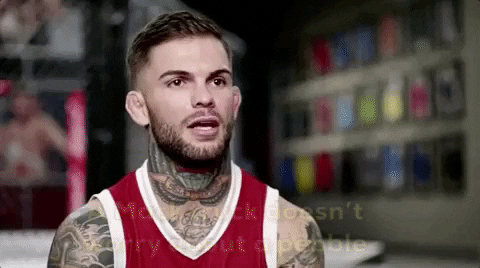 Variables of the fight
This fight is such a coin flip, Cody has the athletic advantage with his blinding speed and probably a slight power advantage as well. If Cody can be first in the exchanges the speed could throw Rob off his rhythm and could make it hard for him to settle in the fight. While Rob has the technical advantage and from what I've seen from both fighters I'd give him a chin advantage too. If Rob can set the tone with his jab having the reach advantage to open the rest of the striking and even mix in a takedown to frustrate and keep Cody guessing. Honestly, who knows with these two, both have incredible finishing instincts and striking, it's going to be a blast watching it play out!
Co-main Event
We got a neck and neck strawweight fight that's flying under the radar. Former champ Carla Esparza taking on sneaky Chinese contender Yan Xiaonan. The winner of this fight with a statement performance could easily be next for Rose Namajunas.
Carla Esparza might be the biggest OGs in the strawweight division, the first champion has fought all comers from prospects to champions and bounced back from tough losses. Her wrestling is some of the best in the weight class and has been the backbone to most of her success. Pair this up with solid submissions, good cardio, and just overall grit she's a tough out for anybody. She has some great wins like her rear-naked choke of Rose Namajunas that earned her the title, Cynthia Cavillo, and Felice Herrig. She's riding the best streak since she won the title with four straight wins including Alexa Grasso, Michelle Waterson, and Marina Rodriguez. In a division where most of its elite are striking based a redemption title run is very realistic for Carla with Rose wanting to avenge a loss if Carla wins Saturday.
Yan Xiaonan is another dark horse on the card, she has quietly put together a fantastic 6-0 record in the UFC including great wins over Angela Hill, former title challengers Karolina Kawalkowicz, and Claudia Gadhelia. Yan is an aggressive striker with a background in Sanda a Chinese style in kickboxing. She has a variety of kicks and spinning attacks. She loves to stand in the middle of the octagon and throw three-four punch combinations. A competent ground game with good clinch takedowns and trips. If she continues her dominance, she'd be the most obvious choice for a title shot or even a big Chinese showdown with Weili Zhang.
This fight is going to come down to how effective Carla's grappling is going to be. I could see Yan become over aggressive and getting taken down in the middle of her long punch combinations or Carla catching a kick. Carla would just put money in the bank with top control. I could also see Yan sticking and moving to pick Carla apart for three rounds. She may even surprise with her one takedown on Carla which would be a huge statement. Either way, it's going to be a very competitive fight with high stakes for the division.
Can't miss fights
There's a great middleweight fight between top 10 contenders Jack Hermansson and Edmen Shahbazyan. Both looking to bounce back from losses. Hermansson coming off a competitive 5 round fight with current title challenger Marvin Vettori. Edmen coming off his first loss to Derek Brunson. Edmen is still one the biggest prospects at 185lbs, when he's at his best he's aggressive, precise, and creative in his striking. Will it be enough for Jack's tricky herky-jerky striking with elite grappling and ground and pound. This could easily be a main event for a fight night so keep your eye on this contest.
Heavyweight veteran Ben Rothwell is returning against the debuting Chris Barnett is a fight I'm very excited for. Barnett after twenty-seven fights competing around the American and east Asian circuit is stepping up on a week's notice. Barnett looks like one of the armchair analysts you'll see on Twitter and Reddit but don't judge a book by its cover this man can move. 5'9 265 pounds throwing a variety of jumping kicks and spinning strikes, always puts on a show. Rothwell coming off a slugfest with Marcin Tybura, who always shows up with come forward, take one to give two type of style. This fight has a fun spectacle written all over it.
Fights with potential
Bill Algeo against Ricardo Ramos at 145lbs has a high chance for action. Bill's coming off a dominant win over Spike Carlyle also a blood and guts war with Ricardo Lamas. Bill's a pressure fighter with high volume striking and good cardio. Ramos matches up great with his flashy striking and dynamic submissions. Ramos owns one of the three spinning elbow knockouts in UFC history so he's a risk-taker with kill or be killed style.
Yancy Medeiros against Damir Hadzovic is 155lb fight that's guaranteed to finish before a judge's decision. Both guys with their backs against the walls riding losing streaks. They'll most likely be fighting the keep the spot in the promotion. Hadzovic nicknamed "The Bosnian Bomber" has picked up some brutal knockouts like his standing knee finish over Marcin Held and his win over Polo Reyes. Yancy has fought some great names and put on some legendary fights like his back and forth war with Alex Oliveira. When he knocked out Erick Silva in Brazil or his brutal bulldog choke on Damon Jackson. Yancy brings that Hawaiian fighting spirit every time and can finish the fight anywhere.
Lastly, something to keep your eye on is a lightweight fight between Damir Ismagulov and Rafael Alves. Damir is 22-1 and holds a UFC record of 3-0 and is a forgotten prospect in the shark tank that is 155lbs. There isn't a phase in fighting he struggles at and the UFC has high hopes for him. I feel the UFC is punishing Alves for coming at 155lbs for a 145lb fight last month so they give him one of the toughest fights at lightweight right now. It has been two years since Damir's last fight so it'll be interesting to see how he performs and I feel we'll be looking at future contenders.