Sammy Mattaliano
UFC Fight Night: Jung VS. Ige
You'd think with a UFC card almost every Saturday there would be some fatigue in excitement from the fans and even the quality of fights, but the UFC's consistency is at all-time high with another fun card this weekend. An absolute banger featherweight main event. A fun heavyweight co-main event. An undercard filled with action matchup after-action matchup. I'm here to point to the straight killers, not the fillers.
Main Event
We got a potential fight of the year on our hands with a 145lb main event between an OG of the division and an all-time savage Chan Sung Jung taking on another rising contender Dan Ige who's cut from the same cloth. 145lbs is in a weird place right now, there's a bit of a log jam with Volkanovski vs Ortega getting postponed, Zabit Magomedsharipov being sidelined indefinitely, and Max Holloway being the people's champ looming over the entire division. At the same time, there's room for another title contender, the winner of this will slide into the top 5 will have to defend it against the constant rotation of 10 top contenders at 145lbs to really stand out for a title shot. Will the Korean Zombie remind these young fighters of the savage they're dealing with? Or is Dan Ige going to add a legendary scalp to his collection? It's not going to be easy for either of them and will look like the night of the 4th of July inside the cage.
Dan Ige
There's so much that stands out to me about Dan Ige that gives hope for a high ceiling in the UFC. He has a hustle mentality that's proven in his schedule and activity. Debuting in the promotion in 2018 and already has a record of 7-2. Being an assistant to one of the biggest managers in the sport Ali Abdelaziz has kept his work ethic on point, being around and learning about the UFC, and rubbing elbows with some of the greatest fighters in the sport. It might sound irrelevant, but I feel it has helped him with handling the bright lights. In every fight, Dan shows improvement. He can run you over in the first round or edge out a grueling decision. There's an overall intensity in his fighting style that can't be ignored. Tenacious grappling that gives you no room to breathe. Boxing that's improving every fight. Striking that benefits his body type and fighting style, whether it's flying knees to close distance and initiate grapple exchanges or throwing knees and elbows in the clinch where opponents are expecting to get a chance to rest. The man does not give in and take his foot off the gas pedal. Danny Henry is a prime example of the intensity. This was two hyped prospects going against each other. Dan felt out the first 30 seconds, dropped Henry with an overhand right-left hook, hammered him with more hooks against the cage, took his back, and snatched his neck to submit him 77 seconds in the first round. The Mirsad Bektic fight highlighted the grit and scrappiness in Dan. Bektic has a similar style to Dan with great boxing and wrestling. Dan immediately put on the pressure of the first round mixing boxing and takedowns. When Mirsad would defend the grappling Dan would do damage in the scrambles where fighters would normally reset. In the second round, Dan had survived the wrestling, top control, and a deep arm-triangle choke by Mirsad only to come out in the 3rd to walk him down with boxing and edge out a split decision. The Edson Barboza fight was another showcase of toughness, grit, and cardio. Barboza is one of the scariest strikers in the UFC, Dan put his nuts on the table and constantly pressured Edson to crowd-kicking distance. He survived multiple stuns and a knockdown that gets most fighters out of there. Dan's pressure, volume, and body language led him to a split decision victory over the UFC legend. Of course, his most recent win overhyped Canadian prospect Gavin Tucker was the coming-out party for Dan. Knocking out Tucker with a beautiful straight right 22 seconds in the first round. Dan is a junkyard dog that's getting better every fight. At 29 years old this man most definitely has title fights in his future.
Chan Sung Jung
If you're new to MMA the Korean Zombie is your guy. This man earned that nickname with fighting that has produced so many memorable moments in and outside the UFC. A South Korean gunslinger that has an affinity for chaos who can take an abnormal amount of punishment. Someone ignited the MMA scene in his home country that fighters coming out of there look up to as a hero. Phenomenal killer instinct finishing all 6 of his UFC wins. These fighters who get into brawls all their fights usually lack technique, defense, and are one-dimensional, not the Zombie. The man's boxing offense and defense is fundamentally sound with 1 shot power to make it a deadly compliment. There're so many examples of success with his boxing, whether it's him scoring a 7 second knockout over Mark Hominick, the fastest finish in 145lb history. The win over Renato Moicano where Jung showed great counter-punching, slipping a jab returning his own jab-overhand right to stop Moicano in the first round. His fight with Dennis Bermudez where Jung came off of a four-year lay off from injuries and mandatory military service to starch Bermudez with an uppercut in the first round. His Rockstar performance in his home country where knocked former 155lb champ, Frankie Edgar, with a 3-punch combination. Its not just his striking though, he's a very underrated grappler who has great offense of his back, a wide variety of submissions, and thrives in the wild scrambles. His wild fight with former interim champ Dustin Poirier showed Jung's awareness in the wild exchanges where snatched up the neck off a flying knee to pull of a 4th round d'arce choke in one the wildest fights in 145lb history. His historic submission over Leonard Garcia where he pulled off the super rare twister submission being the first person to score one in the UFC. This happened back in 2011 and only one more person has pulled one off since then. The Zombie is coming off a tough loss to Brian Ortega back in October, so this is a big fight for him to remind these young fighters why he's the legend he is and to defend his #4 spot in the division.
Variables of the fight
This is such a tough fight to call reflected by the oddsmakers having this one as a pick'em currently. It's going to be a matter of who can stick to their strengths better in this one. For Jung, he's got to rely heavy on the jab to keep Ige at distance. The jab will set up all the other punches whether it the lead hook after, overhands, and hook uppercut combinations. Ige has quite a chin so I'd like to see him mix in bodywork and not headhunt like he's been prone to. Jung must set the tone with the takedown defense early. It's going to be a big part of Dan's game plan and is going to set up his striking. Jung has to find a way to discourage the grappling. For Dan, it's exactly what I just mentioned use the Brian Ortega blueprint. Brian made Jung look a bit one-dimensional by mixing the striking and the takedowns beautifully. Dan does his best work striking when he's in close off the takedown attempts so mix that in with his tenacity in his chain wrestling, I think he can get Jung to the ground. Another factor is Jung's age 34 years old with a lot of miles, he's taking quite a bit of damage the past few years. I think someone is going to get finished early or Ige's going to edge out a decision victory.
Co-Main Event
Aleksei Oleinik against Sergey Spivak is a fun heavyweight matchup between an old dog and a young contender with two styles that's bound for someone to be finished. Olenik flying under the radar to be considered one of the best heavyweight submission artists in the sport. Spivak a well-rounded finisher who's finally getting his feet under him in the UFC. This would be a chance for him to break into the top 15 of the division.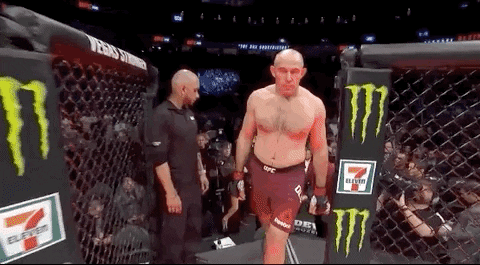 Sergey Spivak
Debuting in the UFC back in 2019 coming into the promotion with 9-0 record with 9 finishes including are some of the craftiest veterans in the sport, Tony Lopez and Travis Fulton. Having almost an equal amount of submissions to knockouts. The Ukrainian had a tall task for his UFC debut against Walt Harris and suffered his first loss but took his lumps like a man. Bouncing back with a very solid arm-triangle over fan-favorite Samoan slugger Tai Tuivasa, in a fight where he had to overcome some adversity in the striking to get the fight to the ground and clutch up for his first UFC win. In only his 3rd fight in the UFC, he ran into the current #8 contender Marcin Tybura where Sergey got a schooling in MMA grappling being taken down and controlled the majority of the fight. He rebounded over the scrappy Brazilian boxer Carlos Felipe where Sergey took some notes from his last loss and used his own grappling to bang out a unanimous decision victory. His last and in my opinion his best performance was against Jared Vanderaa. Jared called Sergey out and boy was that a big mistake. Sergey's a quiet guy but came into the fight with a chip on his shoulder. Immediately getting the fight to the ground where there was an obvious advantage and beat Jared to a bloody pulp to earn a 2nd round TKO. I think this fight was a huge boost to his confidence with him coming into the biggest fight of his career. Facing Oleinik is a great way to see where he stands at heavyweight. A winnable fight but very a dangerous one if not executed correctly.
Aleksei Oleinik
With a nickname like "The Boa Constrictor," you know damn well this man has a specialty in strangling dudes. This man is the epitome of a veteran, he's the oldest fighter currently in the UFC at 43 years old. He's been choking dudes out before I was even born making his MMA debut in November of 1996. Currently sitting at a whopping 76 fights with a record of 59-15-1 with 54 finishes, 46 of them being submissions. A deadly arsenal of chokes, leglocks, and joint locks that's made some great fighters wilt. Submitting elites like Mirko Cro Cop, Travis Browne, Jeff Monson, and Mark Hunt. Holds a win over former UFC champion and another all-time submission artist Fabricio Werdum. The only man to pull off an Ezekiel choke in the UFC, a submission that usually is only finished when wearing a gi (robe), but Aleksei's orangutan arms and strength make him an outlier to put this off in MMA. To have one of these on your record would be impressive and he has 11. Don't get twisted though if a fighter is too focused on his grappling, he'll wing some wild overhands or beat you up in the clinch with his big power. If this man gets his hands on you it's defcon 1. Is he going to be a champion? Probably not, but if you beat him it's usually a sign, you're ready for the elite of the division. For the young fighters coming up, he's a difficult style of fighter that's necessary for you to know how to beat.
Variables of the fight
I think this is a pretty simple one to call, Aleksei's only chance of winning this fight is getting this fight to the ground and doing what he does best. It wouldn't be crazy for him to pull it off but at 43 years old and the damage is taken the last few years I'm worried for him. If he were to get stopped again in this fight (likely) we must ask if he should still be fighting because I haven't seen 1 shot knockout power from Sergey. This is Sergey's fight to lose, the boxing and footwork must be on point in this fight. He needs to be the one coming forward. Don't have you back against the cage. If you do end up in the clinch, get you under hooks, and circle out of there ASAP. I feel he could easily cruise to a decision with sticking and moving, but if he puts enough of his punches together, I don't have faith in Aleksei's chin being able to hold up. This is a must-win for both guys as it wouldn't look great for Sergey's potential to lose such an old veteran. Alekei's would be facing his walking papers if he were to lose his third fight in a row at an older age. It should be a great lead-in to the fantastic main event.
Can't miss fights
Marlon Vera vs Davey Grant at 135lbs is the best fight on this card behind the main event. This is a rematch of a fight from 2016 where Grant outstruck and grappled a young Marlon Vera, but both have improved leaps and bounds since then. Marlon going 9-4 with 8 finishes over guys like Brad Pickett, Brain Kelleher, Andre Ewell, and fan-favorite Sean O'Malley. Davey being on his best streak in UFC with 3 wins with 2 knockouts in a row over Martin Day and the hyped prospect Jonanthan Martinez. All three fights he was a sizeable underdog in. Whether it's in the striking or the grappling it's going to be wild scrambles or back and forth on the feet in a very competitive bantamweight fight.
Julian Erosa vs Seung Woo Choi at 145lbs is guaranteed action. Erosa a slick brawler and Choi being a power puncher with a giant frame for a featherweight. After being cut from the promotion twice Erosa is finally getting his feet under with a third stint in the UFC riding two big finishes over Sean Woodson and Nate Landwehr. Choi also riding momentum coming off domination over promising contender Youssef Zalal, learning from his back-to-back losses against savages like Mosvar Eloev and Gavin Tucker. Whether it's the performance of the night or fight of the night, someone in this fight is walking out with a 50k bonus.
Dhiego Lima vs Matt Brown at 170lbs is a must-see. Matt Brown is one of the most savage fighters to ever step into the octagon. He's the definition of kill or be killed with a UFC record of 15-12 only being to a decision in 5 of those fights. He's produced so many brutal finishes whether it was the walk-off elbow on Diego Sanchez. Weathering the storm against Erick Silva to drown him late. Or his beatdown of fan-favorite Stephen Thompson. Lima is a tough matchup though, a big welterweight with 1 punch power and disciplined defense he's going to make it difficult. Matt is the only person to knockout former Bellator 170lb champ Douglas Lima who's the brother of Dhiego so he's going to be looking to get this one back.
Fights with potential
Virna Jandiroba vs Kanako Murata at 115lbs is a high-level grappler vs grappler matchup with the winner earning a ranking in the top 15 at strawweight. Virna an elite black belt 2-2 in the UFC with 2 submissions and losses to division elites like Mackenzie Dern and former champ Carla Esparza. I've been watching Murata put in work at RIZIN over in Japan the last few years, picking up 3 submissions with 2 Von Flue chokes including UFC vet Angela Magana. Coming off a dominant debut over division journey woman Randa Markos. This should be a fun grappling chess match with tons of reversals and submission attempts.
Bruno Silva vs Wellington Turman at 185lbs, Silva is probably who I'm most interested in seeing a fight on this card. The Brazilian knockout artist took the hard way of getting to the UFC by throwing himself in the lion pit that is the Russian regional circuit. Riding a 4-fight win streak with 4 knockouts with his last two wins being over Alexander Shlemenko and Artem Frolov which are arguably two of the best wins you could pick up in Russia. He is coming off a 2-year layoff from a failed drug test so I'm very interested to see how will perform against another tough Brazilian in Turman.