Sammy Mattaliano
UFC Gane VS Volkov Analysis and Bets
This Saturday we got a fun card with a big heavyweight headliner with major title implications. Darkhorse prospects taking on the toughest opponents in their careers. With the rest being fan-friendly matchups that have a high probability with fight-ending sequences. One last sleeper card to hold us over the blockbuster McGregor/Poirier card on the 10th.
The Main Event
I've been hyped for this heavyweight matchup since it was announced two months ago. The future of the division the Frenchmen Ciryl Gane taking the 6'7 Russian mercenary Alexander Volkov. This is a great style matchup between two very technical strikers. It's the high potential in Gane against the fountain of experience with Volkov. With the nasty contract negotiations that Jon Jones is going through and Derrick Lewis most likely facing Francis in August or September, the winner of this fight has a great chance of being next in line for the heavyweight strap.
Ciryl Gane
"Bon Gamin" has been thrown to the wolves his whole combat sports career, whether it's Muay Thai or MMA. It's truly special how much he's accomplished with how few fights he has. In his Muay Thai career with only seven fights, he's a two-time French national champion with a win over 170 fight veteran Yassine Boughanem. In his debut in MMA, he won the TKO heavyweight belt which is a big Canadian promotion. He debuted in the UFC at only 3-0. I don't think people understand how rare this, how much potential the UFC must see in you, and most importantly to be able to swim in the deep end that young into your MMA career. His striking translates beautifully to MMA with technique and movement that is rare for guys his size. He has a great understanding of distance always using the right tool in the correct range, he never has huge misses or leaves himself out of position. What stands out to me the most is his footwork, super light on his feet and can keep it up for 25 minutes. Something so rare for heavyweights that we haven't since Travis Browne in his prime. He's 5-0 in the UFC showing a wide range of his ability. In his debut, he picked up an arm-triangle submission over BJJ specialist Raphael Pessoa. His next fight against Don'Tale Mayes he showed off his beautiful kickboxing skills over the three rounds hurting him three times and pulled off a leg lock in the last fifteen seconds of the fight. He did the same to tough Canadian contender Tanner Boser cruising to a dominant three-round decision. Ciryl got his major step up when he faced former heavyweight champ Junior Dos Santos. Ciryl did whatever he wanted brutalizing him with leg kicks only to stun him with a jab and finish him with an elbow behind the ear. Ciryl's test for the top five was against fellow striking specialist Jairzinho Rozenstruik. Cyril neutralized the big power of Rozenstruik and pitched a 5-round shutout. Darting in landing his shots then was out of there, mixing in his own wrestling, people questioned Rozentruiks volume, but he was fighting a ghost in Gane. Fans criticized the lack of excitement in Gane's performance but sometimes a fighter just has to fight their fight especially when they're dominating while having a very low risk of losing. It was a championship performance of intelligence and if he can do something similar to Volkov we have a future champion, add in the fact that he used to be a training partner of Francis N'gannou so he's not going to play into the feared reputation of the champion. I have very high hopes for this young heavyweight.
Alexander Volkov
With a nickname like "Drago" Volkov really does look like he's straight out of Rocky IV. A 6'7, 80' reach, power striker who uses his length arguably better than anybody in the sport right now. A man who's put through the ringer on the Russian regional scene and came out of it dominantly on top before reaching the UFC. The former M-1 and Bellator heavyweight champ holds a record 33-8 with 25 finishes. Filled with great wins that obvious and some that go unnoticed. Before he got to the UFC, he picked up wins over PFL standout Denis Goltsov, former UFC heavyweight champion Ricco Rodriguez, Strikeforce title challenger Brett Rogers, kickboxing legend Mighty Mo, European star and former Bellator 205lb champ Attila Veigh, and top ten UFC heavyweight Blagoi Ivanov. He was more than ready for the level of competition debuting in the UFC in 2016. He quickly showed his size was going to cause major problems in the division. The man has sharp front kicks to the head and body that can touch you from halfway across the cage, the ability to snipe with his straight punches or mix up the combinations to put you down, great takedown, and full guard defense, and fantastic cardio. His fight with fellow skyscraper Stefan Struve was a showcase of his grit getting an eye poked twice to fight with smart anger to get the 3rd round TKO. As a reward, he earned a matchup with former champ and submission ace Fabricio Werdum. A fight that showed how difficult guys have to deal with the length of his, controlling the stand-up, getting taken down which most guys get put away when Werdum gets the fight there, Volkov stayed calm got back to his feet and knocked him out cold in a tough 4 round fight. He took tough losses to Derrick Lewis and Curtis Blaydes, a lot of people forget he was lumping the black beast up before having a mental lapse and getting finished with 10 seconds in the fight. The Blaydes fight he couldn't stop the takedowns in the first four rounds, but Curtis couldn't put any offense together with them, Volkov came on strong rounds four and five almost stopping Curtis from showing that great cardio and grit. He bounced back picking up a beautiful front kick to the liver stoppage over Walt Harris and beating the snot out of division great Alistair Overeem to end his career in MMA. With the skills and the size, it wouldn't surprise me at all to see the belt wrapped around his waist.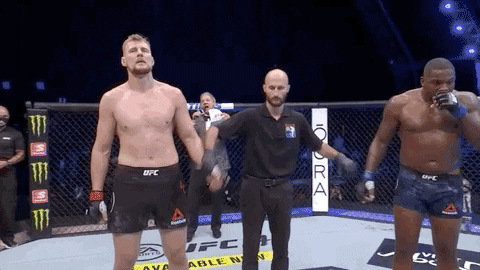 Variables of the fight
This is such a tough one to call it's going to be a battle of the try-hards. For Gane, he must be all the way in or all the way out with the distance. Get inside to crowd Volkov's length, short-range punches, work the single collar or Thai plum with knees and elbows, and get out of there. He has to be cautious when being out of range because he could be surprised with how far away Volkov could touch him. Gane will most likely look to mix in his wrestling to set up his striking even more. For Volkov, the key is going to be his kicks. Mostly to the body and legs. Front kicks for the straight attacks, roundhouse kicks for the pivots and lateral movement, and leg kicks to slow the footwork. If he can slow the movement of Gane it's going to give him a much easier target to hit. Regardless of the winner, they both have a long tense night ahead of them.
The Co-Main Event
Originally suppose to be Ovince Saint Preux against Maxim Grishin, but Tanner Boser putting his nuts display stepping up on a weeks' notice returning after fighting 3 weeks ago. Not the highest-stakes fight but it should be a fun one regardless. The last time OSP fought at heavyweight he had an absolute war with Ben Rothwell and Tanner is always brings combination punching and toughness. Should be a great gas station appetizer to set up the sophisticated main event.
Tanner Boser
"The Bulldozer" pulling in a favor for the UFC by showing up on weeks' notice and facing a potential three-fight losing skid it's sink or swim for Tanner. Earning most of his experience on the Canadian regional circuit picking up wins over UFC vet Tim Hague and 100 fight veteran Tony Lopez. Then jumping in the deep end by signing to the Russian shark tank that is ACB. Going 3-3, then returning to the Canadian MMA scene to win a title and get signed to the UFC. Picking up an easy win with a decision win over Daniel Spitz in his UFC debut, but then running into main event fighter Ciryl Gane to be shown there's still room to grow. It was looking good for him his next two fights picking up knockouts over Raphael Pessoa and former PFL heavyweight champ Philipe Lins. It was two fights that showcased his biggest strength in combination punching. If he can improve on stopping the takedowns. and the ability to get up off his back his speed and footwork could take him far against some of the slower plodding heavyweights.
Ovince Saint Preux
OSP is one of the most fun fighters to watch at 205lbs. He's shown flashes of greatness but has stumbled in situations you'd think he'd handle easily. Then once you lower your expectations, he always reminds us of his potential. When he's on its dynamic finishes in any phase of the fight. He's just super awkward to deal with being on a long lengthy southpaw. People underestimate his grappling because he doesn't have these insane credentials but he's just dangerous everywhere. He's also just been at it at the highest level for so long with 23 fights in the UFC and going 6-1 in Strikeforce. Fighting the elite of the elites like Jon Jones, Glover Texeira, Ryan Bader, Gegard Mousasi, and Mauricio Rua. He's got so many standout performances whether it be his many Von Flue chokes. There's only been about seven or eight of them pulled off in the UFC, OSP has 4. The fight with Michal Oleksiejczuk was a perfect example of why we love OSP. The polish prospect was lighting OSP up like a Christmas tree, stunning him to head and body multiple times for a round and half before Ovince had enough got Michal to the ground and locked in the rare submission to choke him unconscious. The Tyson Pedro played out in a similar fashion with OSP getting knocked down and nearly finished but reversed Tyson's takedown and submitted him with a straight armbar. OSP just needs one moment to take you out proven with his head kick over Corey Anderson. Or his multiple knockouts while moving backwards. It's a perfect blend of athleticism, awkwardness, and decision-making. I love him moving to heavyweight for a fresh look and run, I thought he looked good in his fight with Ben Rothwell and his skill set should translate well to the bigger guys.
Variables of the fight
This is a tough one to call it. If Boser could turn this into a boxing fight I think it's his best path to victory. There's have been holes in OSP's boxing defense shown in the Michael Olekiesjczuk, Illir Latifi, and the Jimi Manuwa fights. If he can get OSP's back against the cage and let the combinations go he could have a big win on his hands. For OSP I think it'd be smart to rely on the grappling for this one. Illir Latifi showed a massive hole in Tanner's game when he put him on his back. This fight was only 3 weeks ago so I don't think Tanner's offense of his back has improved so much since then. I could also see OSP just meeting Tanner on the feet mixing in the single-shot kicks and punches. Regardless it's going to be a sloppy heavyweight mess and I'm all in on it.
Can't miss fights
Raoini Barcelos vs Timur Valiev is flying under everyone's radar. A 135lb fight with Raoni being the biggest dark horse in the stacked bantamweight division. Valiev bouncing back after their stumbling debut but still shows tons of promise reminding me of a 135lb Zabit Magomedsharipov with his elite grappling and unorthodox kicking game. Barcelos has been quietly going crazy riding a seven-fight win streak and 5-0 in the UFC. Giving me shades of Jose Aldo but relies on the grappling a bit more than the featherweight great. I think the winner of this fight is going to be the next big thing at 135lbs to earn a big ranked fight.
Nicolas Dalby vs Tim Means at 170lbs is going to be MMA striking at its finest. Dalby coming off a dominant decision victory over scrappy boxer Daniel Rodriguez. Dalby has looked much more polished since resigning to the UFC in 2019. The "Dirty Bird" is one of my favorites in the UFC right now. A fighter's fighter, a technician with a big toolbox, and an overall grittiness in general. Some of the best elbows at 170lbs and mix them into combinations better than anyone in the sport right now. He can stop you with any of his limbs and is just a very underrated OG of the fight game. This has fight of the night potential written all over it.
Renato Moicano vs Jai Herbet at 155lbs is super intriguing to me. Moicano being former top 5 at 145lbs but has been up and down at lightweight coming off a brutal loss to hyped contender Rafael Fiziev. When he's on it's a money jab with mean leg kicks and a nasty submission game. Jai Herbert being a former Cage Warriors 155lb champ who had to debut against crafty Brazilian Francisco Trinaldo, a super tall task for anyone to have the first fight in the UFC with. Herbert shocked me with the striking and was winning the fight handily before getting caught towards the end of the third round. Two fighters with tons of potential looking to bounce back and make a run.
Fights with potential
Shavkat Rakhmonov is returning at 170lbs against Michel Prazeres. Rakhmonov is an absolute killer coming from Uzbekistan. Having a record of 13-0 with thirteen finishes coming to a huge debut submission victory over Alex Oliveira. He can do it all knockouts, submissions, he's got a tough opponent in front of him with Prazeres. Although Michel's a bit undersized for 170lbs he holds an impressive UFC record of 10-3 including wins over Gilbert Burns, Mads Burnell, and Maribek Taisumov. Being 5'6 at 170lbs makes him a human English bulldog that brings smothering grappling and big power. If Shavkat can run through this guy like he's been recently we have a big prospect on our hands.
Daniel Pineda vs Andre Fili at 145lbs is the sleeper on this card Saturday. Pineda a 40-fight veteran who's done damage in the UFC, Bellator, and PFL. Lives and dies by the sword, he's finished all twenty-seven of his wins and has only been to a decision four times in forty-one fights. Coming off an absolute war with Cub Swanson back in December. Andre Fili is a great dance partner who's grown up in the UFC facing the elite of 145lb division since 2014. It's going to be the craft kickboxing of Fili up against the brawler with high-level BJJ so keep your eye on this one.
Now we get into the real fun of this blog: the bet's baby. I and Hunt B have been in the lab for the past week trying to find ways to cook up all different kinds of parlays and props worthy of putting your hard-earned cash on. Whether you're betting five dollars or five hundred, we're here to help you beef up your wallet so we can get a big table at Sizzler.
Charles Rosa vs Justin Jaynes
I'm going with the underdog Jaynes at +140. I like the striking matchup for him, I feel Rosa gets hit so easily with zero head movement. Jaynes has lost 3 in a row, but it was against very good guys in Gabriel Benitez, Gavin Tucker, and Devonte Smith. Justin's back is against the wall and I think he can get the knockout in this one. It even came out today that he's putting 25,000 on himself so I'm liking the belief in himself. If you're feeling even friskier you could take Jaynes KO for +350.
Julia Avila vs Julija Stoliarenko
I'm going with the favorite Avila at -340. Avila was one of the biggest prospects at 135lbs before running to Sijara Eubanks, but it's been nine months from then I think she's going to bounce back. I haven't seen anything Stoliarenko to make me think she can win this. I think Julia has a slight grappling advantage with a major advantage in the clinch and with the striking.
Warlley Alves vs Jeremiah Wells
I'm taking the favorite Alves at -240. Wells is taking the fight on about two weeks' notice and matches up to Warlley's skill set well. I just have faith in the level of competition Alves has faced and his striking. I thought he looked great in his last against Mounir Lazzez. I think Warlley has the grappling to keep it on the feet or get his own takedowns, the striking to control the fight, and will most likely earn a decision victory or even get Jeremiah out of there.
Michel Prazeres vs Shavkat Rakhmonov
I'm going with the favorite Rakhmonov at -305. This one is honestly a lock for me, I've been watching Shavkat do damage on the Russian regional scene before he even got the UFC. The man is just an absolute destroyer. Michel hasn't fought in almost two and half years is also at 10" reach and 5" height disadvantage. I think Shavkat is going to keep the train rolling to get him out of there. So if you wanted to add some juice to the bet Shavkat finish at +105 is a great choice.
Renato Moicano vs Jai Herbert
I'm going with the underdog Herbert at +195. Both are coming off knockout losses, but I feel Renato is coming off the worse one and Jai had a better showing in his last fight. After seeing how he did against Francisco Trinaldo I'm putting my faith in him. I feel like we've seen the best of Renato. If Jai can stay on his bicycle, set up everything with his jab, he's can beat Renato on the feet.
Nicolas Dalby vs Tim Means
I'm going with the favorite Means at -143. I think the UFC experience and the wider toolbox of Tim Means is going to get the job done in this one. Tim has just shown a real maturation to his game the past year. Nicolas has shown more vulnerability since getting finished by Jesse Ronson back in July of 2020. I think with how these two matchups on the feet and the potential grappling I love the over 2.5 rounds at -225, would be a great leg to a parlay
Raoni Barcelos vs Timur Valiev
I'm picking the heavy favorite Barcelos at -230. Raoni is riding crazy momentum being a 7-fight win streak all of them being UFC caliber opposition. He's shown he's good everywhere, striking, grappling, pressure, cardio, I feel Raoni has the advantage of mixing it all together better. I think he cruises to a 3 round decision or maybe even gets Timur out of there.
Ovince Saint Preux vs Tanner Boser
I'm going with the underdog OSP at +140. I'm liking the speed and movement of him at heavyweight. I think the footwork, kicks, and potential takedowns will get the job down for him. I watched Tanner fight 3 weeks ago being stuck on the ground when he's on his back. I think OSP can get him there and could possibly finish the fight there too. Wouldn't be surprised if OSP gets the finish so taking him to do it at +300 is very juicy.
Cyril Gane vs Alexander Volkov
I'm going with the underdog Volkov at +125. I have faith in Volkov's size and experience. He has thirty-three more fights than Gane and has fought a higher level of competition in the UFC. Volkov's shown he's tough to finish but at the same time Gane is very intelligent with his shot selection and movement. Therefore, I love the over 4.5 rounds at -115 or Volkov decision at +375.
The parlay I'm going with this week is Alves, Rakhmonov, Barcelos, and Volkov tallied together for +512. I got a good feeling about the picks this weekend so bet responsibly and have fun. Let's ride!